CSIRO has developed and patented a world leading MOF manufacturing process based on flow chemistry and megasonics.
This continuous process enables the production of MOF volumes that can match product development and market entry plans of our industry partners.
The process has been scaled to kilograms per hour and its cost is well defined – another critical issue for our industry partners.
The continuous flow chemistry process has performance far superior (in terms of STY – space time yield) to competing processes.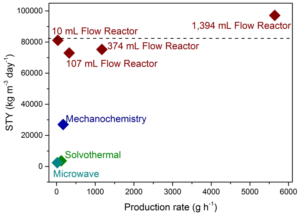 See Rubio-Martinez et al. for further details.